The highly transmissible delta variant of SARS-CoV-2, the coronavirus causing the disease COVID-19, is now present in 124 countries and will become the dominant strain globally in the coming months as it is outcompeting other variants, the World Health Organization said Wednesday.
The variant was detected in 13 new countries in the week ending July 18, the agency said in its weekly epidemiological update. The global number of new COVID cases rose by 3.4 million in the week, up 12% from the prior week. The world added an average of 490,000 cases a day, compared with 400,000 cases the week before. The number of fatalities was flat at almost 57,000.
There are now more than 190 million confirmed cases of COVID, and more than 4 million people have died of it.
"At this rate, it is expected that the cumulative number of cases reported globally could exceed 200 million in the next three weeks," said the update.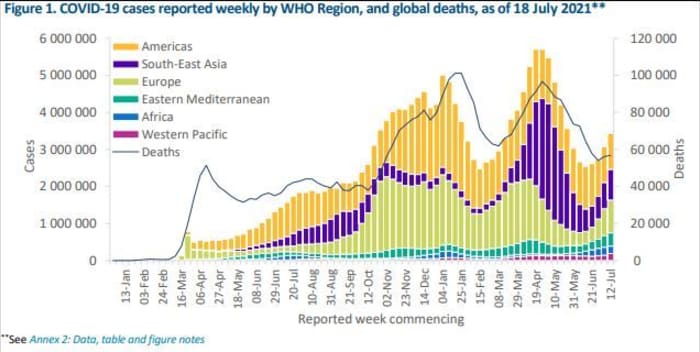 The other three "variants of concern" are also spreading. The alpha variant, first detected in the U.K., is now in 180 countries, up from 172 last week; the beta variant, first detected in South Africa, is now in 130 countries, up from 123 last week; and the gamma variant that was first found in Brazil is present in 78 countries, up from 75 last week.
The increases in transmission appear to be driven by the fact these new variants are more contagious, as well as the relaxation of public health measures, greater
social mixing, "and the large number of people who remain susceptible to SARS-CoV-2 infection as a result of inequitable vaccine distribution around the world," said the WHO, reiterating a longstanding criticism of how the vaccine supply is being handled around the world.
The delta variant is responsible for 83% of all COVID cases sequenced in the U.S., according to Centers for Disease Control and Prevention head Dr. Rochelle Walensky, who testified in Congress on Tuesday alongside National Institute of Allergy and Infection Diseases chief Anthony Fauci.