From an article by Ludmila Morozova-Buss on LinkedIn:
A word 'unprecedented' seems too weak to convey just how much the dimensionless operational space of digital (r)evolution requires instantaneous reaction. Striving for knowledge brought me far beyond my personal horizons of discernibility.
With hope to create and scale globally an inclusive 'authors-publisher-readers' circle of wisdom and expertise; with channelled determination to gain understanding by carefully selecting the best information sources (Dis moi où cherche! Mais où?) and reading between the lines, multiplied by expressed interest for knowledge sharing by the industry experts, and as part of my 'Top Cyber News' extended roundtable series; I brought in one-of-a-kind 'Men on the Arena': Charles (Chuck) Brooks, Stewart Skomra, Mike Quindazzi and Scott Schober to create a series of articles 'The Globality Quotient: Cybersecurity' published by Dennis J. Pitocco, BizCatalyst360 – an award winning digital magazine.
The Globality Quotient: Cybersecurity
Cybersecurity – Prevention And Protection.
Cybersecurity – What is Ethical Hacking or a Hacker is a Hacker ..
Cybersecurity "Hacked Again" & Women in Digital Universe
Women in Cybersecurity: Why Closing the Gender Gap is Critical via TechNative
A central topic of these essays is cybersecurity. A fundamental and delicate question at the heart of my work is: how to motivate my readers to want to learn more. We write by a way of motivation and to set a context with a brief personal background.
"It is wonderful to see Ludmila successfully bridging a gender gap in our industry. I read your articles and I am first impressed by the sophistication and sense of weightlessness with which you describe some complicated scientific and technical concepts, imparting an understanding of complex ideas with simplicity and clarity. Elegance and artistry is indeed a rare combination in writing on science and technology. You and Chuck present a balanced view of the issues and competing priorities while elucidating a 360 degree strategic change agenda. Respect!" Scott Schober,  CEO at Berkeley Varitronics Systems, Inc., Author, Cybersecurity Expert, Speaker
I advocate a Systems Thinking approach in educating our readers, followers, friends, business associates on digital transformation, emerging technologies and cybersecurity…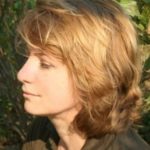 Ludmila Morozova-Buss is Vice President of Public Relations and Media Communications at Global Institute for IT Management (GIIM) & Executive Partner at Brooks Consulting International (BCI) – a boutique global marketing, branding, and government relations firm specializing in Cybersecurity and Emerging Technologies.