[imageframe lightbox="no" gallery_id="" lightbox_image="" style_type="none" hover_type="none" bordercolor="" bordersize="0px" borderradius="0″ stylecolor="" align="left" link="" linktarget="_self" animation_type="0″ animation_direction="down" animation_speed="0.1″ animation_offset="" class="" id=""]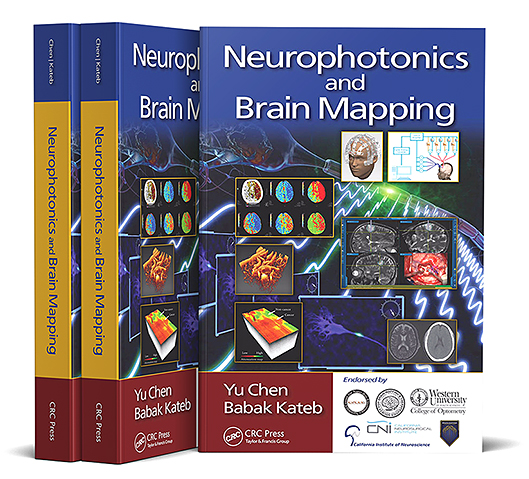 [/imageframe]
Frank Boehm (NanoApps Medical Inc. CEO) contributed to Neurophotonics and Brain Mapping, edited by Yu Chen and Babek Kateb.
The book is due to be released by CRC Press on April 6 2017.
About the Book
Understanding how the brain works and developing effective therapeutics are important in advancing neuroscience and improving clinical patient care. This book covers state-of-the-art research and development in optical technologies and applications for brain mapping and therapeutics. It provides a comprehensive overview of various methods developed using light, both microscopic and macroscopic techniques. Recent developments in minimally-invasive endoscopic imaging of deep brain structure and function, as well as light-based therapy are also reviewed.
Frank Boehm contributed to "Brief History of Brain Mapping and Neurophotonics: From Technological Discoveries to Brain Initiatives" by Babak Kateb, Vicky Yamamoto, Frank Boehm, Alexandra Jalali, Vassiliy Tsytsarev, Bahram Jalali, Derek Backer,Brian Pikul, Parham Yashar, and Yu Chen and "UV-Based Imaging Technologies for Intraoperative Brain Mapping" by Babak Kateb, Frank Boehm, Ray Chu, Samuel R. Cheng, Keith Black, and Shouleh Nikzad.

[title size="2″ content_align="left" style_type="single solid" sep_color="" margin_top="" margin_bottom="" class="" id=""]Recent News[/title][recent_posts layout="default" hover_type="zoomin" columns="3″ number_posts="120″ offset="" cat_slug="News" exclude_cats="" thumbnail="yes" title="yes" meta="yes" excerpt="yes" excerpt_length="30″ strip_html="yes" animation_type="0″ animation_direction="down" animation_speed="1″ animation_offset="" class="" id=""][/recent_posts]