Dr. Bob Hieronimus hosted an in depth two-hour long interview with NanoApps Medical CEO Frank Boehm, who initially discussed his first book, and his three new books in progress. Among the topics of discussion were his startup NanoApps Medical, the challenges of securing funding for nanomedical research, and how the EU is standing out due to its exciting and aggressive program of investing heavily in innovation and the future.
Frank then articulated his vision of how synergies between nanotechnology, nanomedicine, and AI may culminate (in ~10-20 years time) in what he refers to as Global Health Care Equivalency (GHCE), which will be driven by Molecular Manufacturing (MM). Further topics included nanomedicine in space applications, and how a brain/cloud interface might some day emerge through nanomedical robotics.
One of the primary messages from Frank was that we should all work together toward positive ends to fulfill the dream of GHCE, where everyone on the planet has equal access to top tier nanomedical health care and can fully realize their inalienable right to optimal health for life.
Listen to Part 1 of the interview at 21st Century Radio
Listen to Part 2 of the interview at 21st Century Radio
About the Host: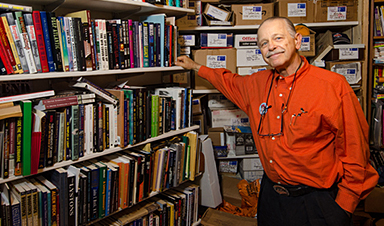 Robert R. Hieronimus, Ph.D. has been an acknowledged pioneer in the "New Paradigm" movement for over 40 years. After traveling with numerous rock and roll bands in the 1960s to share information about esoterica and design posters and album covers, Bob began a long career as a muralist and painter. His highly acclaimed occult and symbolic artcars and murals include the 2,700 square foot prophetic "Apocalypse" at the Johns Hopkins University, which led to Dr. Bob being called "one of this country's best muralists" (Forecast Magazine). Art historian and critic Alan Barnet noted, "Hieronimus has a talent for winning the cooperation of the establishment while he lives and works in the counter-culture."
In January 1988 he launched 21st Century Radio, first on WFBR in Baltimore, then on over 100 stations nationwide on the American Radio Network and currently on WCBM 680 in Baltimore Sunday nights 8-10 PM Eastern. Dr. Bob's easy-going blend of humor and well-read background, cause most of the leading edge authorities he interviews to agree that 21st Century Radio is the best forum to present their unusual findings or opinions. Passionate about mythology and how it can provide for a special meaning in life, Dr. Bob seasons his programming with visits from cultural heroes and icons who help add humor and inspiration to the sometimes discouraging news of the future. He has made a special study of the Beatles' animated classic film, "Yellow Submarine" which successfully blended mind-bending art design with archetypal symbology. In 2002, he published Inside the Yellow Submarine: The Making of the Beatles Animated Classic, which has been called "an indispensable companion to the movie." (Animation World Magazine)
In 1990 Dr. Bob and Zoh incorporated Hieronimus & Co., Inc. to serve as a media research service, providing story and guest ideas and materials to television, newspapers and radio worldwide. Their work has been featured on ABC World News Tonight, ABC Radio, ABCNews.com, CNN, C-SPAN, PBS, The Larry King Show, Strange Universe, and in dozens of leading publications like The Wall Street Journal, The Washington Post, The New York Times Magazine, The Chicago Tribune, The Boston Globe, The San Francisco Chronicle, The Dallas Morning News, The Denver Post, The

Image Credit:  Amanda Scott/Alias Studio Sydney